22 juin 2008
Les aventures de Flat Joscie à Paris / Flat Joscie's adventures in Paris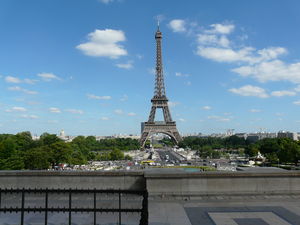 Joscie (du forum CK) a eu l'idée de faire une version "plate" (en papier :-D ) d'elle-même et l'a envoyée faire le tour des Etats-Unis, chez différentes scrappeuses, pour une petite visite. Cette semaine, et pour la première fois de sa vie, "Flat Joscie" est arrivée à Paris et a donc eu droit à une visite guidée de notre belle capitale !
Le principe : emmener Flat Joscie partout et la prendre en photo. Ensuite, faire quelques pages pour son journal de voyage en les renvoyer à Joscie (la vraie !) pour qu'elle les range dans son album.
Voici les photos de Flat Joscie en vadrouille dans Paris ! (cliquez pour les voir en plus grand)
Joscie, from CK message board, made a "flat" version of herself and sent her aroundd the USA, to different scrappers, for a visit. This week, and for the first time of her life, Flat Joscie arrived in Paris and so, she came with me, visiting this beautiful capital.
All you have to do when you host Flat Joscie is to take her everywhere and take pictures. Then, make LOs for her travel book and send them to the real Joscie !
Here are the pics of Flat Joscie, wandering around Paris ! (clic for a better view !)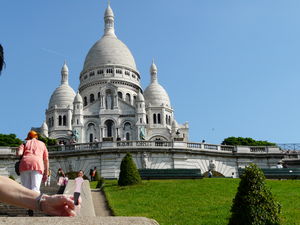 La journée a commencé par le Sacré Coeur
We started our trip with the Sacre Coeur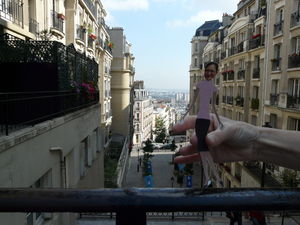 Puis nous nous sommes balladé à Montmartre
Then we had a walk in Montmartre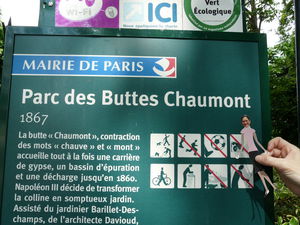 Puis nous avons visité le parc des Buttes Chaumont
Then, we visited the Buttes Chaumont' park
Nous étions un peu fatiguées, nous nous sommes assises sur un banc public (banc public, banc public...)
We were a little tired, we sat down on a bench, looking at the joggers, kids, families... having a good time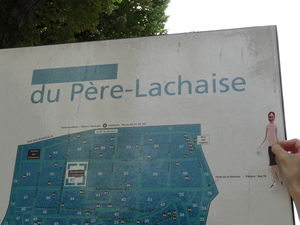 Ensuite on a visité le cimetière le plus célèbre de France (du monde ?)
Then we visited the most famous cemetery in France (in the world ?) : le Pere Lachaise
Puis c'était déjà l'heure de déjeuner !
Then it was already time to have a lunch !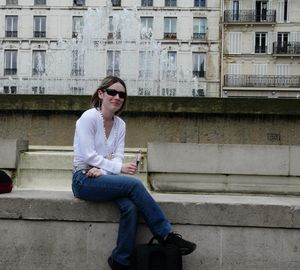 Après manger nous sommes allées sur la place de l'Hôtel de ville
Afer lunch we went to the City Hall's square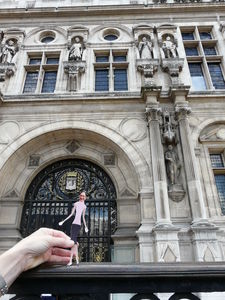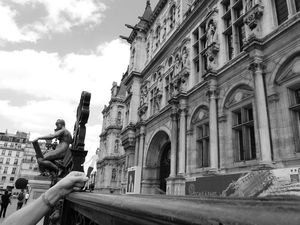 Paris ne serait pas Paris sans la Seine, ses ponts...
Paris wouldn't be Paris without the Seine, its bridges...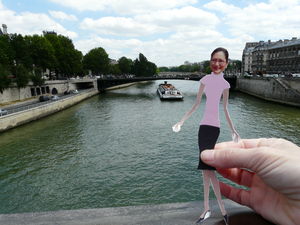 ... et ses bateaux-mouche !
... and its pleasure boats !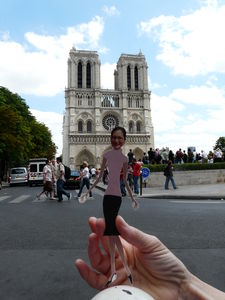 Nous avons marché jusqu'à Notre Dame de Paris
We walked up to Notre Dame de Paris' cathedral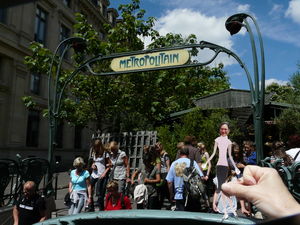 Flat Joscie a adoré le métro parisien ;-)
Flat Joscie enjoyed the metro ;-)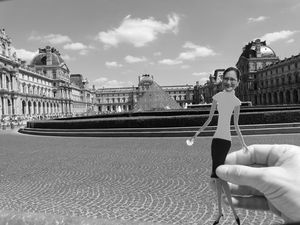 On a pris le métro jusqu'au Louvre
We took the metro up to the Louvre
Du Louvre, nous avons marché jusqu'aux Tuileries
From the Louvre, we walked up to the Tuileries' garden
Voici une photo avec l'Obélisque en arrière-plan
Here is a pic with the Obelisque at the back
Flat Joscie a aussi adoré les canetons !
Flat Joscie enjoyed the baby ducks too !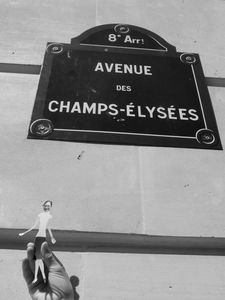 Enfin, nous avons marché jusqu'aux Champs Elysées !
We walked up to the Champs Elysees !
Nous avons tout remonté jusqu'à l'Arc de Triomphe
We walk up to the top of the Champ Elysees, to the Arc de Triomphe
Et j'ai gardé le meilleur pour la fin : la Tour Eiffel !
And the better for the end : the Eiffel Tower !
Plus de photos ici
More pics here
Merci si vous êtes arrivées jusqu'ici lol ! Je n'ai plus qu'à faire une ou deux pages pour le journal de voyage de flat Joscie !
Thanks for looking ! Now I have to make one or two LOs for Flat Joscie's travel book !
Commentaires
Poster un commentaire