19 janvier 2008
DCM-Hide and seek
Bonsoir !
Cette semaine sur DCM le challenge était de fabriquer une carte qui cache quelque chose.
J'ai utilisé une pochette qui contient à la base des jeux à gratter, qu'on offre à Noël. Je l'ai décorée et caché un tag dedans avec un petit mot.
Merci de votre passage & de vos petits mots !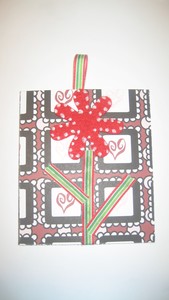 Hi there !
This week on DCM the challenge is to create a card with a hidden component. I created this card with a hidden tag with a text written on it. Thanks for looking, and for your kind comments !
Matériel : Papier Bazzil, papier imprimé 3 bugs in a rug, Chatterbox, bouton, Clear Stamps, ruban American Craft, brad, eyelet.
Commentaires
Poster un commentaire