05 janvier 2008
DCM - "New"
Bonjour !
Le challenge de cette semaine sur Daring Card makers est de faire une carte pour célébrer quelque chose de nouveau. La nouvelle année, mais aussi un nouveau bébé, une nouvelle maison, etc...
Bon comme c'est l'époque j'ai fais une carte de nouvelle année !
Et comme je me suis rendue compte que j'avais BEAUCOUP de tampons (enfin à mon goût lol), j'ai décidé de les utiliser sur toute la carte, pas seulement en accent comme je fais d'habitude. Alors je suis loin d'être une pro du tampon mais ma carte me plait comme ça !
La voici (cliquez pour agrandir) :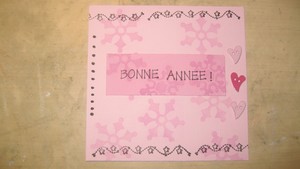 Papier Bazzill
Tampon flocon envoyé par ma SSC Robin
Clear stamps de la Scap
Boutons fantaisie
Qu'en pensez-vous ?
********************************************************
Hello everybody !
This week's challenge on the DCM's blog is "celebrating new" : the new year, or a new baby, a new job, a new home etc...
I made this "Happy new year" card as we always are in this season !
And as I find I have many stamps (IMO !) I decided to use them on my card. The snowflake stamp was sent to me by my SSC Robin, the clear stamps are from "La Scap" and I used buttons.
TFL ! (click on the pic for a better view)
Commentaires
Poster un commentaire