16 décembre 2007
DCM - Inside and out
Bonsoir !
Aujourd'hui je vous montre une carte faite pour le challenge de Daring Cardmakers.
Il fallait faire une carte décorée dessus et dedans et j'ai repris les mêmes papiers pour que ça aille ensemble. J'écrirai un petit message perso peut être sur un calque ou sur un papier blanc on verra.
Ce soir je ne sais pas pourquoi mais je n'arrive pas à insérer des photos alors je procède autrement, vous aurez des grandes photos de ma carte ;-)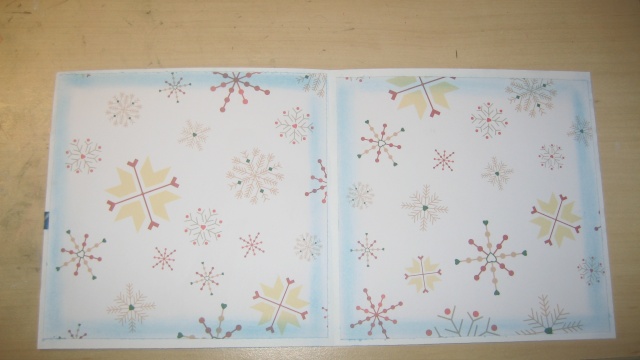 Alors au niveau des papiers il y a Imagination project, et le deuxième m'en rappelle plus...
Ruban : American Craft
Tampon nounours : c'est un clear stamp, trouvé à Truffaut
Tampon Bonnes fêtes : je ne sais plus d'où il vient, je l'ai depuis longtemps !
Et j'ai utilisé des craies chalk pour la touche finale ;-)
*********************************************
Good evening everybody !
Today I made a card for the DCM challenge's "Inside and out". We had to design the inside of the card as well as the outside. I used the same papers to match the inside & the outside and I'll write something on a transparencie or a white paper, I don't know yet.
Thanks for looking !
*********************************************
Je rajoute juste que j'ai refais la photo de ma dernière page (voir dessous) qui était très moche au départ à cause du manque de lumière naturelle. Aujourd'hui il y avait un grand soleil et j'en ai profité pour la refaire, on la voit quand même vachement mieux !
@ bîentôt, et merci encore pour vos commentaires !
Commentaires
Poster un commentaire