26 octobre 2007
DCM - Ribbon
Bonsoir !
Ahh enfin les vacances, une semaine pour.... travailler, travailler, et travailler sur les trucs à rendre lundi prochain :-D

Bref, ce soir j'ai plusieurs trucs à vous montrer. D'abord, ma participation au challenge de Daring Card makers cette semaine : il fallait utiliser du ruban sur notre carte. J'ai choisi de faire une carte assez sobre. J'ai collé le papier avec "Joyeux Noël" avec du Glue dots "pop up" et j'y ai noué mon ruban... tout simplement ! J'aime bien cette carte, plus simple que les autres que je fais d'habitude.
Trèves de blabla, la voici :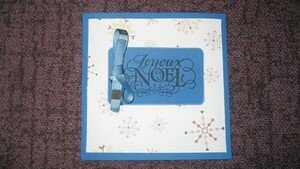 Les papiers sont de Bazzill et de Toga (cette fois j'ai noté avant de découper !)
Et le ruban est d'American Craft
Hello ! I took part to the DCM's challenge today, we had to use ribbon on it. Here is what I did, click on the image for a better view ! Thanks for looking !
Deuxième carte pour ce soir, c'est le Little Extra de cette semaine, toujours sur DCM. Il fallait faire une carte selon un sketch :
I made another card for the Little Extra, the challenge was this sketch :
Et voici ce que j'ai fait :
Mêmes papiers que tout à l'heure, je récupère toutes mes chutes ;-)
Enfin, voici ce que j'ai reçu dans ma boite aux lettres hier, un magnifique paquet de Gaybow du foum de Creating Keepsakes. Le but était un échange de paquets contenant quelques "goodies" sur le thème de l'automne :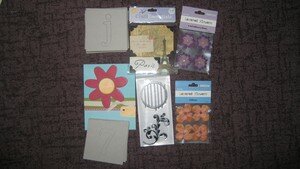 Thank you again Gay, your package is WONDERFUL and I love EVERYTHING ! You will receive yours soon ;-)
Voilà pour ce soir !
Bon week end !
Commentaires
Poster un commentaire